ERA VI: 1965-2000
(A QUIET FLORIDA FISHING VILLAGE)
Though the real estate developers sold off most of the land, relatively few people in the world knew where Hudson was. Those who did, usually associated it with fishing. Prior to the white man's settlement of the area, the Indians fished here for food. The first settlers depended on the sport for food as well. Now, with the canals bringing the Gulf into everyone's backyard, sports fishing reigned supreme. In cold weather trout and redfish swam into the canals, and it was usual even for amateurs to catch 4-6 pound trout. Fish were plentiful and the fishermen were waiting for them. Experienced fishermen were catching 50-75 a day. The most popular canal was the one parallel to Clark St. on the way to the beach, at times 150 fishermen were there at a time.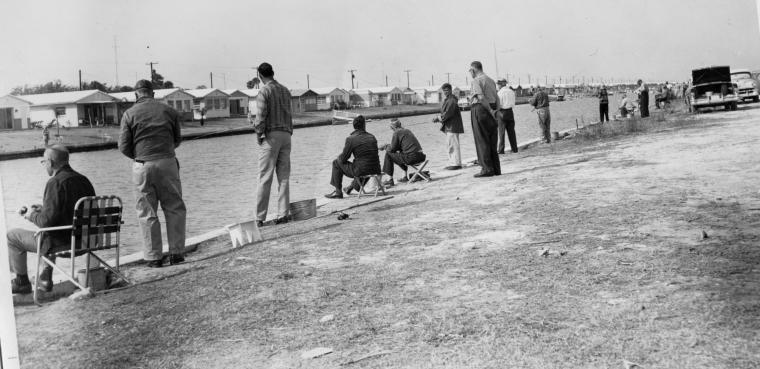 A St. Pete Times writer wondered about the 'fish stories' coming from fishermen on the Hudson canals and arrived on Jan. 3, 1959 only to write the following in the paper the next day, "We saw the greatest display of trout fishing in years. 3 pounders were the routine, 4 pounders were strewn around like logs, and 5 pounders numbered a half dozen that morning." The writer was Red Marston. Fishing influenced people to buy a home here in the 1960's, as stories of the catches being landed fell on more and more ears. Not only Hudson people, but visitors came during the 1960's-70's from New Port Richey, Brooksville, Dade City, even Tampa, St. Petersburg and Clearwater.
As fishing exploded and Hudson became known from St. Pete to Crystal River as a place for bizarre catches and trout fishing, the town's reputation grew. Let's look at some of the highlights of Hudson fishing that people talked about:
1966 JK Jones of Land O Lakes catches a 6 ft. Tarpon off of Harbor Dr. Tarpon rarely enter the canals, today one did.
The fish struggled for over an hour and was brought ashore 700 ft. from the original position. "While the struggle
went on, a porpoise harried the Tarpon, seeming to help it at times, seeming to toy with it others."
1966 Bud Dean of Hudson on a boat offshore mackerel fishing succeeded in lassoing a sea turtle but it was impossible
to bring it in without capsizing the boat. Just in time, Slim Mattix on his larger boat came to the rescue and
when the reptile was hauled in by four Hudsonians, it weighed in at nearly 400 pounds.
1970 A sensational catch of an 8 ft. bluefin tuna sighted in a canal was made by a group of Hudson men in a strange way.
They harried it for more than 6 hours with various weapons and finally shot it with a spear gun, arrows and
put a lasso around it to haul it in. It weighed in at an amazing 525 pounds but that was 12 hours later.
People came from all around to see this catch, and it is, so far as anyone knows, the all time record of 33 years.
Local bait and tackle business flourished in this environment. Fred Morrill sold hundreds of needlefish lures in a week after people reported it worked for trout. Other bizarre instances occurred with people living on canals trying to find the best baits: some used perfumes, some bags of chicken bones, some sardine juice... usually the most unpleasant odor was the one that worked, sometimes the fish were too gross smelling to eat after ingesting baits like ones dipped in asafedita. One man had a stinking mess of a bait going in his backyard. He filled a bag with ham bones and bread, dumped asafedita on it, and anchored it in the canal. The material was replenished often but the fish he caught near it stunk.
A conversation with a Hudson person can be started like this, "I caught a _______ just a few ____ ago. What about you?
Around 1966, Hudson's shrimping industry was prime in the area as well. That year, a company headed by a Mr. Burch (4 shrimp boats) shipped 250,000 pounds of shrimp to Miami every week on trucks that left carrying 40,000 pounds... every day.
THE TOWN BEGINS EXPANSION EAST OF 19
US 19 was expanded to 4 lanes in 1972, but this had little effect on old Hudson. What the highway did do is provide an arterial for the development of the GREATER Hudson area, south to SR 52 and East of US 19, for the first time. Development encircled the tiny waterfront village and then, by the late 1990's the boom began.
While Sea Pines and Leisure Beach were being built west of 19 as the last waterfront communities of their kind, developers began looking east as well, to the virgin land on the other side of US 19. A whole host of projects were begun in the 1970's here. The heavy hitter was the Beacon Woods project of state of the art homes. Today, Beacon Woods is a nice mix of fine homes from the 1980's to today. They sit on good sized lots, many have pools and lanai screen enclosures. Other subdivisions built up during the 1970's and 80's include Hudson Terrace, Taylor Terrace, the Garden Terrace and Florestate Trailer Parks, Heritage Village, Brown Acres, Palm Terrace, Coventry Green, Country Club Estates, Gulf Highlands, San Clemente, Senate Mobile Homes, Ponderosa Park and, of course, Beacon Woods.
Later on in the 1990's luxury homes and subdivisions have entered into interesting Hudson mosaic of... standards of living. Beacon Woods East, Berkeley Woods, The Estates and other new subdivisions are being sold out at an astonishing rate, as more and more people find Hudson's great cost of living and beautiful scenery conducive to a happy day to day life.
---
NEW COMMERCE AND INDUSTRY COME TO TOWN
In the 80's and 90's US 19 fulfilled its role as a true arterial, and attracted many businesses to this area. The first big shopping center (Beacon Square at SR 52) opened in the late 70's and others since then. And... people came to town as well. It is amazing for us today to think about raw population in this area. In 2000 there were 44,000 people in greater Hudson, from the coast to the Suncoast Parkway. In 1980 there were 28,000. In 1970 there were 2,000 and in 1950 there were around 300.
Commerce and Industry follows people, and brings more. More people bring more commerce and industry, and so on the cycle continued through this fifteen year era. KMart came, Winn Dixie came, a few fast food joints and many other restaurants as well. Think about this: in 1960 there was one general store. One.
West of 19 in the old section was a different story. As it happened, during the 1980's-90's, while all the other canal-waterfront towns in Florida boomed in property value and services, Old Hudson remained a backwater, and a complete unknown. Though the canal system is large (one of the most extensive cohesive inland waterway systems in the nation)- 25 miles of them- it still had many vacant lots on them. Most of the roads were dirt, everyone was on septic and the utilities were lacking. Hudson was a poor city in a poor county and while the other waterfront-canal cities in Florida and California (Ft. Lauderdale, Pompano Beach, Hernando Beach, Punta Gorda, the Keys, Venice Beach CA.) rose in price and flourished, Hudson did not. Pinellas people made fun of Pasco, Pasco people made fun of Hudson as a haunt of old trailers and rednecks, the Ku Klux Klan even was located here. Until the late 1990's, one could buy a gulf-front house for $80,000 and a canal house for even less.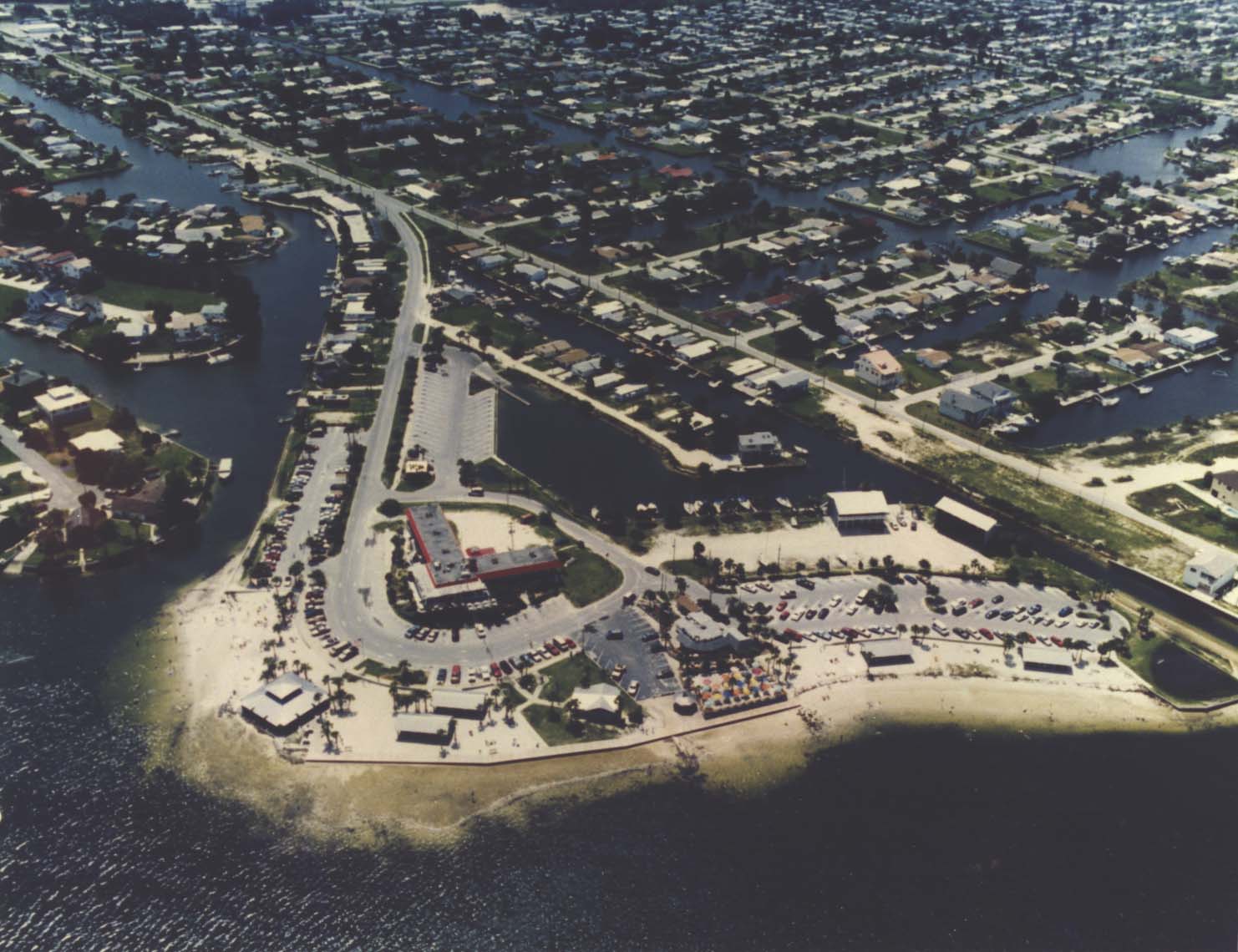 Nevertheless, local people like retired WWII Navy veteran George Jamison and longtime resident Mike Flanagan built houses during the late 70's through the early 90's, for people to buy on the canals. The interior subdivisions were beginning to fill up as well, and things were economically looking up. The County was collecting more in taxes from the area, and more road improvements (like the paving of the roads) were taking place. In March of 1993 a flood called the 'No Name Storm' hit the older part of the town, and many people were out of a home, and out of insurance too. Although the times had changed and not as many people knew each other anymore, again, the people banded together and helped each other out. Many of the original trailers were not worth repairing and scrapped. At the same time, FEMA regulations stated that no structure may be built on a canal... on the ground. Anyone today who wants to build a house in Hudson west of 19 has to build it on stilts in the air. Most mobile homes that are on stilts are model 1994! The 'No Name Storm,' brought in water from the Gulf. Luckily no one was hurt, and in some communities, like Cape Cay, there is to this day every March a 'Flood Party' on the anniversary of the 1993 'Hundred Year Storm.'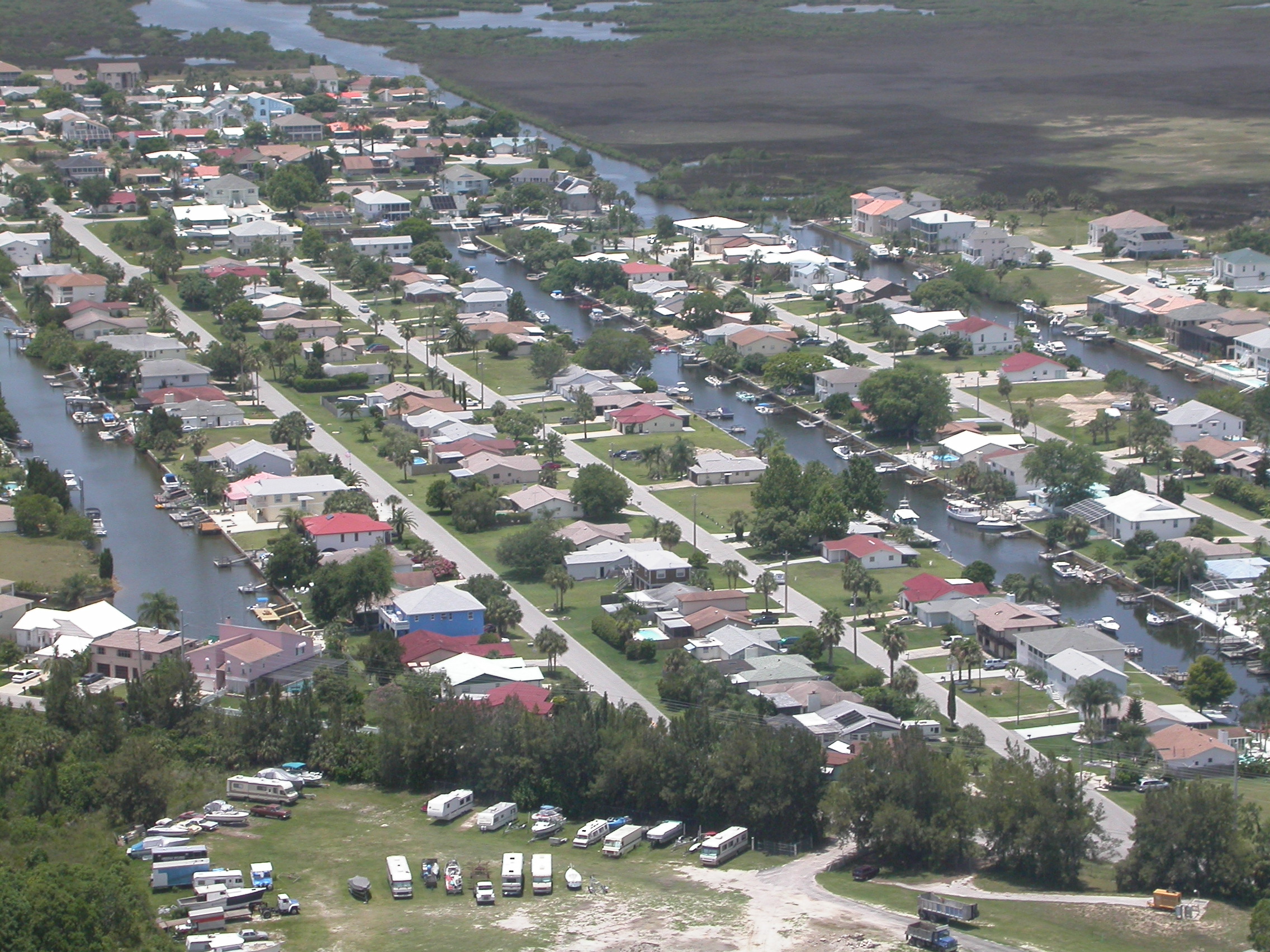 Continue to the End of History: Today's Hudson-------->